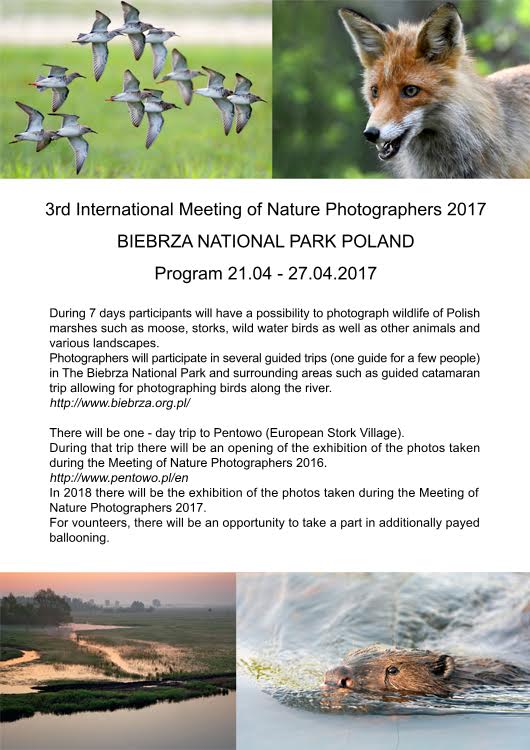 A – guided trips –  Biebrza National Park and area (one guide for a few people)
B – guided trip with catamaran on the river
C – trip to Pentowo (European Stork Village)
D – trip of the whole group
21.04.2016  Friday
14.00 – 18.00 – Arrival
18.00 – Welcome drink
18.30 – 19.00 – Organization of the meeting, program
(collecting the presentations)
19.00 – 22.00 – Dinner by the campfire
22.04.2016  Saturday  sunrise 4.15, sunset 18.42
08.00 – 09.00 –  Breakfast
09.00 – 12.00 – Tsarist Road – looking for the moose
12.00 – 13.00 – Lunch
13.00 – 19.00 – Trip C
13.00 – 14.00 – Departure – transfer from Dobarz to Tykocin (Pentowo)
14.00 – 18.00 – Pentowo – European Stork Village
14.00 – 16.00 – Photographing storks
16.00 –  Opening of the 2d Exhibition of the Nature Photographers
(participants of the meetings of nature in Dobarz)
About 18.00 – Departure – transfer from Tykocin (Pentowo) to Dobarz
20.00 – Dinner
21.00 – 22.00 – Various presentations by participants
23.04.2016  Sunday  sunrise 4.13, sunset 18.43
04.00 – 09.00 -Trip B
04.00 – 09.00 -Trip A
09.00 – 10.00 – Breakfast
10.00 – 13.00 – Free time
13.00 – 15.00 – Lunch
16.00 – 19.30 – Trip A
20.00 – Dinner
24.04.2016  Monday  sunrise 4.11, sunset 18.45
04.00 – 11.00 – Trip A (Breakfast to take away)
04.00 – 11.00 – Trip B (Breakfast to take away)
12.00 – 14.00 – Lunch
16.00 – 19.30 – Trip A
20.00 – Dinner
21.00 – 22.00 – Various presentations by participants
25.04.2016  Tuesday   sunrise 4.08, sunset18.47
04.00 – 12.00 -Trip A  (Breakfast to take away)
04.00 – 12.00 -Trip B (Breakfast to take away)
13.00 – 15.00 – Lunch
16.00 – 19.30 – Trip D – Sunset  or visit King of Biebrza
20.00 – Dinner
21.00 – 22.00 – Various presentations by participants
26.04.2016 Wednesday    sunrise 4.06, sunset 18.49
04.00 – 09.00 -Trip B
04.00 – 09.00 – Trip A
09.00 – 10.00 – Breakfast
10.00 – 13.00 – Trip D – Lake in the forest
13.00 – 15.00 – Lunch
15.00 – 17.45 – Free time
17.45 – 18.00 – Family photo
18.00 – 20.00 -Trip D – Sunset at the Strękowa Góra
20.00 – 23.00 – Gala dinner with polish folk musicians and dancers
27.04.2016 Thursday
08.00 – 9.00 Breakfast
09.00 – Departure, check out
For volunteers, there will be an opportunity to take a part in baloon flight
(for an extra charge). The date and time of the baloon flight will be given just before the meeting (it depends on the weather).
After the stay in Dobarz, each person will be asked for sending photos for the presentation and for the exhibition which will be held at the time of the next meeting of nature photographers in Dobarz, in 2018.
Each participant will get the presentation from the meeting as a souvenir.
Person who would like to show his presentation about the nature should bring the presentations on the pen drive. One presentation shouldn't exceed 12 minutes.
Each participant should have wellingtons, measures against mosquitos and ticks (woders can be useful).